Google core updates the new beginning of search
It has been 30 plus years since the invention of the world wide web, and the online landscape is evolving at a pace that is truly unprecedented. The days between big G's sudden algo changes seems to be shrinking with each new core algorithm change growing closer and closer. Enter 2020, and it appeared to be an onslaught of Serp fluctuations and organic rankings.
Starting the year with a bang is certainly something Google wanted to make clear to its massive audience. Four confirmed major core algorithm updates from Google have SEO's all over the industry on high alert. The latest unconfirmed Google Update, Feb 8th 2020 referenced as "Massive" by the folks over at SemRush. Their February serp sensor pegging across all channels and it seems as if it is finally starting to subside.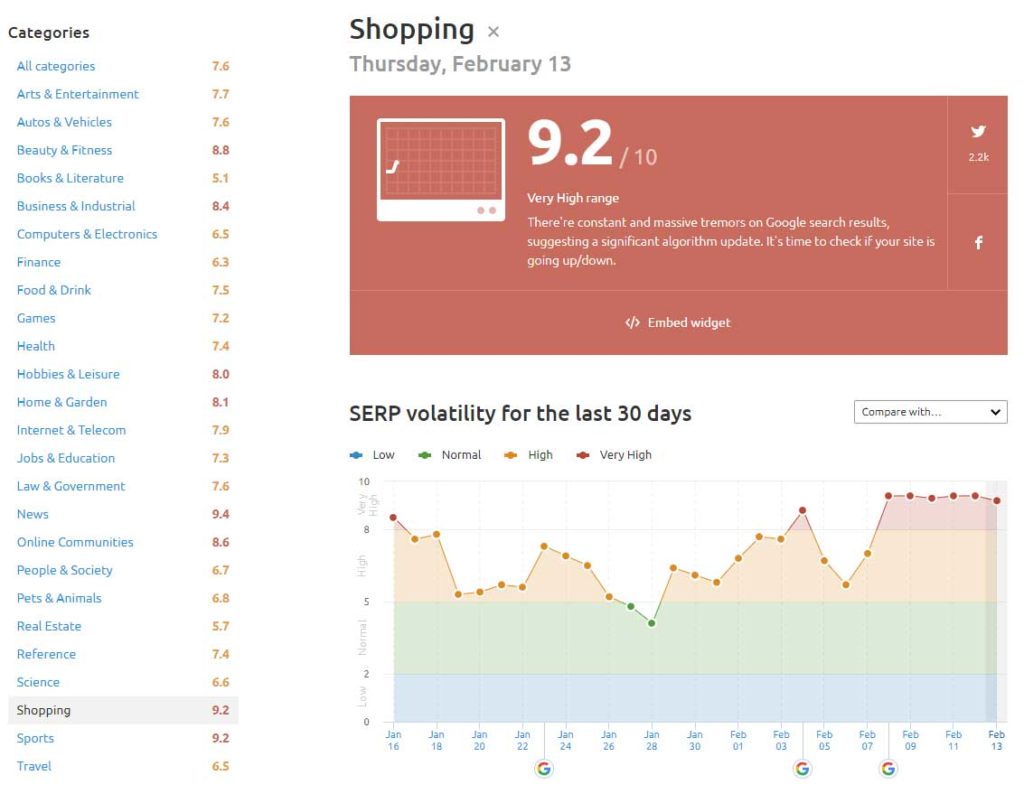 Small business owners & webmasters tirelessly monitoring their analytics and search console data, wondering when or if this update will bring the change they need to take their businesses to the next levelOr will it create a long list of optimizations and website revamps to adjust for the new rules for ranking.
Questions we all have after the updates, What do we do now?
How do we do it and in what capacity should we do it? Important questions that have serious consequences if not delivered effectively. So, what's to come after this update?
For some, the realization of how powerful top-spots in Google search will be a liberating experience, enjoying a bountiful boost in organic traffic that catapults sales into hyper drive.
While many others face a completely different reality, unfortunate webmasters seeing their organic traffic vanish faster than a snap from thanos. ( Trust me it's worth the click. )
At this point, it appears the dust is beginning to settle for most categories yet still critically high for higher converting markets (beauty, business, news & shopping). In the coming days we will begin to reveal the extent of this core-update.
I envision a militia like group of marketing guru's, teams of experienced SEO's, literally thousands of online marketing experts and strategists, relentlessly scouring the deepest corners of the web, running repeated website crawls and complete site audits, trying to definitively pinpoint any potential flaws in their webspace(s).
Create better, more engaging & valuable content
We are truly in a new age of search, and those that fall behind will need to work quickly in order to stay competitive. Search Engine(s) ability to semantically link data, in major part thanks to machine learning. The importance of data/content cleanup & optimization continues to accelerate driving marketers to adapt if they are to be successful.
Properly configured websites are much more enjoyable for website visitors and at initial glance, benefit by stronger ranking signals. This new era of online data being ushered in by vast advancements in computing technology. The machine-learning era of the web has begun.
Identify & correct pages on your website that are thin or offer little to no user value
SEO 2020 and beyond, content is kind of King
"Is my content as good as I think it is, or should I make the move to revisit my websites pages?" Content is King had been the rule of the land for quite some time and it appears as if today it could be only mostly true.
Today content could possibly be King, but only if it checks all or at least the minimum key components of today's SEO requirements. Content for the sake of content has never been a solid building foundation and fortunately for those that build on quality and not quantity, dividends are only just beginning to pay out.
Frequent audits of your website can uncover underlying performance or content issues that could be preventing you from online success.
"Does my website have zombie pages? Do I now have too much content?" We've all heard of the tried and true method(s) of building authority, create a blog, add content to it as often as you could. If the very principles of the web are on the brink of a polar shift than the results could prove devasting. Businesses that utilizing online stores and webmasters alike may soon face a brutal reality that all the effort they have put forth to reach their objectives, may suddenly become the very component that in today's web will become more of a detriment.
How to perform a website SEO audit >>
Take a hard look at your website(s) data and architecture. Find ways to simplify & organize.
If you have made good decisions in the past, hiring reputable website consulting or development firms for your business, I have some good news for you, you may have a leg up on a lot of your competitors. However, for those that have had less experienced developers and possibly the do it yourself website builders, the future of these website(s) higher ranked domain(s) may be limited.
Improving website architecture for a cleaner, faster future.
Structure has never really been the main factor for small business websites, and it will only become ever-more important for the future of the web. In my 20+ years of working in the online field, often, when I partner with clients in either consultant based or hosting website(s) one of the first analysis ran is how they have their online assets organized. Higher costs of web development firms & limited budgets often steered business owners to hire younger or less experience web developers because the price seemed too steep of cost.
A fast website across all browsers & devices leads the way to increasing organic traffic.
"Is my website performance where it needs to be?" The last few years we have had the addition of some seriously powerful website analytic & testing tools. Google Lighthouse test tool can be used to grade your website(s) and identify areas that could be negatively affecting the loading of your web pages and detracting from the user experience.
Building websites for performance and the mobile-experience
Mobile-first indexing finally made its way to center stage in 2019 and caused quite the stir in rankings. Domains that had notoriously benefited in the past, suddenly found themselves off page 1 or even out of the top 100, because they have primarily focused on desktop. They now need to work quickly to address any mobile issues.
Enter the mantra of the last 5 years of SEO, create a blog, start a podcast, add content, build a strong back link profile from credible domains. In theory this sounds like a great way to weed out the less popular or non-credible businesses or websites from top-10 placements. But once again Google, (and i'm simply assuming, have realized) just like link farms of the past, webmasters have once again found ways to work outside the scope of conventional website building. Black hat tactics focus on high DA, unsecured and hacked domains have allowed a lot of otherwise average websites the ability to dominate search.
Building an authoritative back link profile is more than just getting links.
"Is my back link portfolio one of quality, or does it consist of decades worth of lingering outdated ranking strategies that have now in 2020 come back to wreak havoc upon your online shops?"
We know that trust is more important than ever in 2020, and building credible, trust signal sending, authoritative screaming links takes time, persistence and often some creativity.
What would a search result look like if less weight were put on backlinks? It could be argued that a drop in backlink power could help level the playing field and speed up the time it takes to elevate new & even existing brands to the top of search results. A drop in link-juice associated with domains would certainly create waves throughout all industries, severely impacting a lot of what remains as blatant phony backlink profiles, outdated yet still used, campaigns that resemble the ever-prevalent link farmesque style backlink portfolio tactics.
Back links remain a significant ranking signal today, but will that always be the case? As any experienced SEO will notice, the back link portfolio can be and continues to be too easily skewed or misrepresented by several not recommended but highly used practices, many of these black hat SEO tactics still being used today would not fare well in Google's cleaner, faster, more relevant future.
Clean,intuitive web design & architecture will become the standard for websites in 2020 and beyond.
De-cluttering the web for a faster, more accessible future
Google introduced the topic layer back in 2017 and they have had plenty of time to test, build and realize the power and efficiency of cleaner, organized and structured data. While glimmers of its capabilities have shown themselves throughout recent years, such as image search receiving a few new features including videos & AMP articles. The likelihood of seeing more of its potential spill over into search term queries can simply be implied.
De-cluttering of the web will pave the way forward to a faster, more efficient space, ultimately leading to a cleanup of content across all data networks. This will have far reaching impacts and will alter the essential core values of SEO itself.
The topic layer works by analyzing all indexed (and likely crawled) content from the web for a given topic and develops hundreds and thousands of subtopics for each of them. Using these subsets, Google has shown us that it can be used to find the information we're all looking for online easier and faster than ever. Search relevant information faster and more accurately than ever before.
Organic traffic shares space with conventional & new features on page 1 search results.
Structured Data and Its Impact
"Is my data properly configured to take advantage of the latest evolution of web-architecture?" Structured data is here, and it is here to stay. It feels as if it is almost daily we see a new rich-snippet, shopping result display or knowledge panel hit the search engine result pages, pushing the sought after top google organic spot even further down the page, in some cases even below the fold. What is Google up to behind closed doors and recurring messaging for most updates
Position zero and its possible implications are impressive to say the least.
We see it happening right in front of our eyes, almost daily even, big changes to search and the 10 blue result serp pages are now a thing of the past. Today's search result pages quickly filling up with multiple ad results, rich snippets and all kinds of other information displayed right on the page thanks to structured-data.
Introducing a NEW ranking factor, search intent.
Amid all this change 2019 also revealed a new buzzword, "search intent". Visitors typically arrive on your webpages with a pre-determined objective in mind. These objectives typically fall into 3 main categories: Informational, educational and of transactional intent.
Informational Intent is when your visitors are strictly there to gather information about you, your products or your processes. Careful forethought and organizational planning in order to pave the way for your visitors to access this information will become the norm.
Educational Intent is when a visitor is searching for a lot more information about a topic and will most likely be looking at multiple facets of your service or product. Completeness of each topic should be considered, and the trend of longer form content will continue to benefit key "money words" and drive continual traffic.
Transactional Intent is when a visitor knows what they want and is ready to commit to an action. This is most commonly going to be referenced to purchases but can easily be applied to any CTA you may have developed for your content.
Creating content around your topics will become even more critical and completeness of topics should be taken into consideration. Content will continue to expand but not as new pages necessarily, cleaner, more complete thoughts on topics will continue to gain real estate in this new search era.
Rise of conversion Rate Optimization (CRO) and what it means to SEO
Conversion rate optimization (CRO) is the systematic approach to analyzing existing funnels and optimizing them in ways to better entice your audience follow through with intended actions.
Conversions can also be from outside sources such as other websites, PPC and social media channels. In short, we are putting content out there that has an intended purpose. It is our job as marketers to analyze and improve these funnels to increase traffic, sign ups and you guessed it revenue.
Online conversions mean more than just revenue, it may mean potential success or failure.
In the past, conversion rates (CTR) we're closely tracked within Google Adwords or other media or PPC channels as well as on-site. A conversion could take place anywhere as long as a desired action took place leading up to or on your website. As simple as scrolling through a long-form article, filling out a form, opting in for a newsletter, downloads and/or purchases, conversions appear to be an indicator that the content your serving is the information your website visitors are looking for and thus Google should continue sending traffic your way.
On the contrary a website with poorly built funnels and lackluster content and/or CTA's are bad for the user experience, bad for google and bad for your business.
Serving low-converting web results simply doesn't make a lot of sense. Optimize accordingly!
CRO is going to be ever-more important as it begins to intertwine with the world of SEO. In 2020 it seems, conversion rate optimization (CRO) will be an additional signaling factor marketers must account for if they have a desire for organic traffic. (https://www.singlegrain.com/seo/seo-cro-how-rankings-and-conversions-complement-each-other/).
What does all this mean when we are talking about SEO?
it is about providing valuable, unique content that is designed to invoke and action, the action is the conversion and one can only speculate that a website with better conversion rates is providing the information its visitors are truly looking for and interested in.
The evolution of SEO & the web
SEO is evolving into complete departments ironically like the datasets we now will access and manage. Careful attention to not only what is on-page, but the hierarchy of entire domains and at the rate in which they convert. SEO's and businesses alike will need to begin preparation for the future of search, marketing in general and the ways they create and use their data.
The potential of this data is so extensive, I believe the pioneers themselves, including Tesla would be impressed. A truly revolutionary era of data-comprehension accelerated by the advancement of machine-based learning technologies with the mighty powerful computer processor and AI.
It has certainly been a lot to try and keep up with, but as volatile as the results are today, the changes taking place now could merely be the beginning of an even larger expansion of what search will ultimately become.
When and where the dust settles it is ultimately dependent on us as web/content developers to improve our abilities, understand data-architecture more intuitively and produce genuinely better experiences for our visitors.
Sources:
Massive Google Update 2/2020 – https://searchengineland.com/unconfirmed-google-search-ranking-update-feels-big-328980
Google Topic Layer –https://www.seroundtable.com/google-topic-layer-knowledge-graph-dynamic-26421.html
Google Lighthouse – https://developers.google.com/web/tools/lighthouse
Search intent – https://www.searchenginejournal.com/seo-101/how-people-search/
Conversion Rate Optimization – https://neilpatel.com/blog/seo-vs-cro-how-to-drive-search-traffic-that-converts-into-customers/