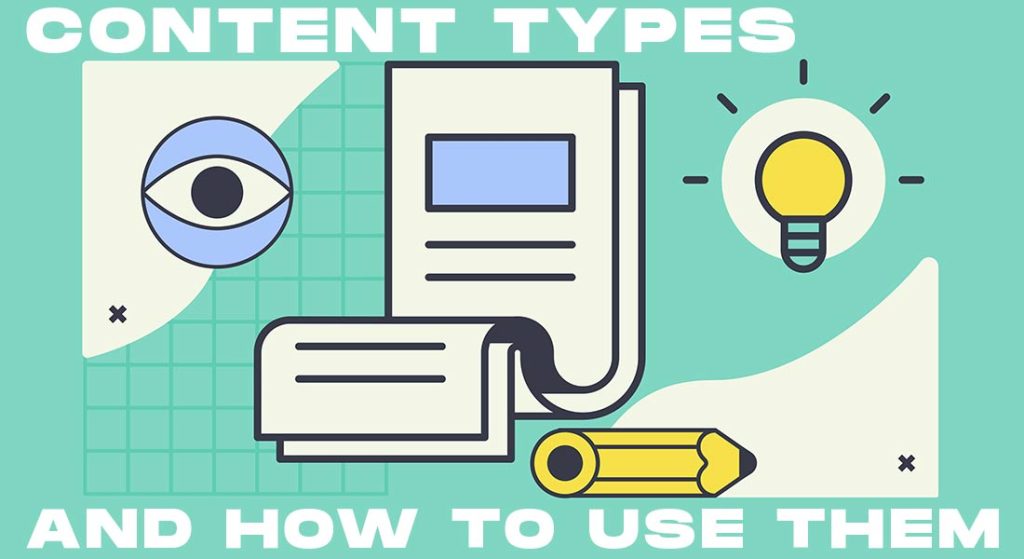 10 Powerful Content Types and How to Leverage Them
We're focused on helping businesses create compelling content that resonates with their audiences. In today's digital age, where consumers are constantly bombarded with messages, it's important to stand out and capture their attention.
We believe that by leveraging different types of content, businesses can not only capture attention but also increase brand awareness, engagement, and conversions. That's why we've put together a guide that covers 10 powerful content types and provides tips on how to use them effectively.
10 Types of Content to Drive Conversions
The content types we'll cover include everything from blog posts and infographics to videos and podcasts. We'll also provide insights on how to use each type of content to achieve your specific marketing goals.
Features-Advantages-Benefits (FAB)
1.) The FAB framework is one of the most commonly used copywriting frameworks. It's a simple way to highlight the features of your product or service, explain their advantages, and describe the benefits they offer to your customers.
Example: Feature: Our new shampoo is made with organic ingredients. Advantage: Using organic ingredients means our shampoo is gentle on your hair and scalp. Benefit: Enjoy healthier, shinier, and more manageable hair without harsh chemicals.
Problem-Agitate-Solve (PAS)
2.) The PAS framework is particularly useful when you want to highlight a customer's pain points and then present your product or service as the solution to their problems. The goal is to get your customers to feel the pain, so they are more likely to see the value of your product or service.
Example: Problem: Are you tired of feeling overwhelmed and stressed out? Agitate: We know how it feels to be constantly on edge, worried about your workload and responsibilities. Solve: Our time management course will teach you how to prioritize tasks and manage your time effectively, so you can feel more in control and less stressed.
Attention-Interest-Desire-Action (AIDA)
3.) The AIDA framework is an excellent way to grab your customer's attention and keep them engaged. It works by first capturing their attention, then building their interest, creating a desire, and finally encouraging them to take action.
Example: Attention: Attention business owners! Are you struggling to attract new customers? Interest: Our marketing course will teach you proven strategies for attracting and retaining customers, so you can grow your business. Desire: Imagine having a steady stream of loyal customers who keep coming back for more. Action: Sign up for our marketing course today and start seeing results in just a few weeks.
Picture-Promise-Prove-Push (PPPP)
4.) The PPPP framework is all about painting a picture in your customer's mind, making a promise, backing it up with proof, and then pushing them to take action.
Example: Picture: Imagine waking up every morning feeling refreshed and rejuvenated. Promise: Our premium mattresses are designed to give you the best night's sleep you've ever had. Prove: Our mattresses are made with high-quality materials and backed by a 30-day satisfaction guarantee. Push: Try our mattresses today and experience the difference for yourself.
Awareness-Problem-Promise (APP)
5.) The APP framework is similar to the PAS framework, but it's more focused on creating awareness of a problem and presenting your product or service as the solution. The goal is to show your customers that you understand their problems and have the solution they need.
Example: Awareness: Did you know that poor air quality can cause health problems like asthma and allergies? Problem: If you're not taking steps to improve your indoor air quality, you could be putting your health at risk. Promise: Our air purifiers are designed to remove harmful pollutants from the air, so you can breathe easier and stay healthy.
Informational, Educational, Support Content and Trust
Businesses need to create valuable and informative content to stand out from the competition. By providing useful content, businesses can educate and support their audience, while building trust and credibility with their brand.
Let's explore several more content types, including How-to Guides, Troubleshooting Articles, FAQs, Product Comparisons, and Case Studies.
How-to Guides provide step-by-step instructions on how to use your product or service, helping your audience overcome any challenges they may face.
Troubleshooting Articles offer solutions to common issues, while FAQs answer frequently asked questions about your product or service.
Product Comparisons can help your audience understand the differences between your product and competitors'.
Case Studies showcase real-world examples of how your offering has helped others.
Leveraging these content types, you can establish your business as an authority in your industry and build strong relationships with your audience, ultimately driving more sales and growing your business.
How-To's / Guides: Content Types
6.) How-to Guides How-to Guides are step-by-step instructions that provide customers with information on how to accomplish a specific task. This type of content is designed to help customers solve problems or achieve specific goals.
Example: How to Connect Your Bluetooth Headphones to Your Phone
Step 1: Turn on your headphones and put them in pairing mode
Step 2: Open your phone's Bluetooth settings
Step 3: Find and select your headphones in the list of available devices
Step 4: Follow the on-screen prompts to complete the pairing process
Troubleshooting Article Content Types
7.) Troubleshooting articles provide customers with solutions to common problems they may encounter with a product. This type of content is designed to help customers solve problems quickly and efficiently.
Example: How to Fix Sound Issues with Your TV
Check your TV's volume settings
Check your TV's audio cables for any damage
Try resetting your TV to its factory settings
Update your TV's software
Contact customer support if the issue persists
Frequently Asked Questions Content Types
8.) FAQs Frequently Asked Questions (FAQs) are a valuable resource for customers who have questions about a product or service. This type of content should be easy to find and organized in a logical way.
Example: Headphones FAQ
What is the battery life of headphones?
Are headphones compatible with all devices?
Can I use headphones while working out?
What is the range of the Bluetooth connection for headphones?
How do I clean my headphones?
Product Comparison Content Types
9.) Product Comparisons compare different products or services to help customers make informed decisions. This type of content highlights the pros and cons of each option and helps the customer choose the best one for their needs.
Example: Best Budget Laptops Comparison
Dell Inspiron 15 3000 vs. HP Stream 14 vs. Lenovo IdeaPad 3
Price comparison
Performance comparison
Battery life comparison
Display comparison
Storage comparison
Case Studies: Content Types
10.) Case Studies Case Studies showcase real-world examples of how a product or service has helped other customers. This type of content can be very persuasive and can help customers see the value in a product or service.
Example: How Company XYZ Increased Sales with Social Media Advertising
Brief introduction of Company XYZ and its products
Overview of the social media advertising strategy implemented
Results of the advertising campaign, including increased website traffic and sales
Testimonials from satisfied customers
Summary and conclusion on the effectiveness of the social media advertising strategy.
Case studies are a persuasive tool for showcasing how your product or service helps customers. Focus on the customer's pain points and the impact of your offering. By leveraging case studies, you can drive sales and grow your business.
Well, there you have it!
10 Powerful Types to Help Unleash Your Content's Potential: 
Using these 10 content frameworks, you can improve your page content, and better align your webpage copy with user intent and create copy that resonates with your target audience. Remember to keep your language clear and concise, and focus on the benefits of your product or service.
Create Compelling Content: 10 Effective Types
Creating compelling content is essential for businesses to succeed in today's digital landscape. By using the 10 powerful content types we've covered in this guide, you can effectively capture your audience's attention, increase brand awareness, and drive conversions.
Creating Content That Resonates with Your Audience
Remember, it's not just about creating content for the sake of it – it's about creating content that resonates with your target audience and helps you achieve your marketing goals. So take the time to plan your content strategy, use the right types of content, and monitor your results.
We hope that our guide has provided you with valuable insights and tips to improve your content strategy. By leveraging these 10 powerful content types, you can take your business to the next level and achieve the success you deserve. Thank you for reading, and best of luck on your content marketing journey!